I have my form or my landing list, with the custom form, the payment gateway (s) configured, the certificates ready and uploaded, I have chosen the template that best fits my campaign ... and now, how do I put my form or landing on my website?
The first thing would be to choose the template model and select the option> Download, which will generate the HTML file that we will need :)
Next, we have 3 main options:
OPTION 1: Create a subdomain pointing to StockCrowd.
Web hosting is the service that provides Internet users with a system to store information, images, video, or any content accessible via the web.
We offer a hosting service by providing a space to upload your campaigns to a sub-domain :)
Why is it interesting to create a hosting on StockCrowd?
For organizations, using our servers to have published campaigns has 2 great advantages:
1- we guarantee to endure important traffic peaks
2- We help the fundraising team not to depend on the IT team to update the pages and campaigns. This is because we have 100% control because the campaigns are on our servers.
Please ask us regarding the next steps if you would like to do so.
Fast and easy.
OPTION 2: Create a domain and load the HTML there:
If you are not going to create a subdomain pointing to us, then you must upload it or "hang it" on your website or wherever you want to see the campaign.
For this, you need 2 things:
-A domain or a domain name, ie: www.mydonation.com
-A contracted web hosting or hosting service.
You hire these 2 services on the internet and, of course, there are many options.
Once you are ready with the host and domain, now you just need to upload your HTML files, to the server where you have your hosting.
For that, we will use some of the information that your hosting company will have provided you when you hire it:
-Your username and password.
-The DNS of the servers managed by the host company.
-The IP addresses of your host's servers.
-The ports of the servers.
-Access links to your account, as well as the host administration panel.
To upload our files (the HTML of your campaign) you have many options, here 3 of the most common:
-Upload files with dreamweaver.
-Upload them using an FTP program.
-Use the host administration panel to upload the files.
Any of these methods do the same: they allow us to upload / send to our host the necessary files to view our website.
In this guide I will focus on generically explaining the third of them> using the host administration panel to upload the html files.
This method is offered by all hosts: Access to an administration panel where you can modify your site settings; create email accounts, manage folders, configure security, access, get statistics, etc.
Normally, your hosting service sends you a direct link to view this panel using your username and password.
An important detail to keep in mind is that each host uses a different management system. But the internal logic is very similar among all.
One of the most used is Cpanel. We will use it as a basis in our explanation:

From the administration panel you control all the options of your website. Here you will see the option to upload the files we want:

Now, as easy as clicking on this option, you can upload your files to the internet as if you were uploading an attachment in your email.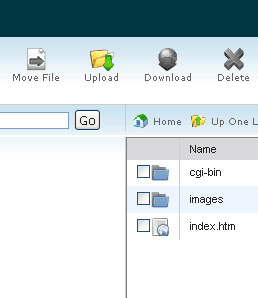 And that would be it !, you already have your files on your website ... and they will be fully visible if your campaign is activated.
Many times, when hiring a domain, the page itself generates a "user guide":
OPTION 3, UPLOAD IT TO WORDPRESS
If your campaign is going to be hosted on a wordpress, the scenario is different depending on two possibilities:
a) You are the administrators of your wordpress server.
b) You depend on third parties when managing this service.
If your scenario is a), the first one, the best way to do this HTMl upload is to create a url inside your wordpress server.
Remember to link from your wordpress CTA (call to action / buttons) that redirect you to the URL where you load the HTML.
To create these CTAs you can use free plug-ins of the wordpress itself as the redirection
If, on the other hand, your wordpress is not directly managed by you, option b), you would only have to send the HTML file to the managers and ask them to create the URL and the CTAs that link it from your wordpress website.
And it would be, you already have your files on your website, your campaign will be visible ... and you can start receiving donations!
* The images of the CPanel are taken from an article published in designaid wordpress